tl;dr: Don't be lazy. Reading is good for you!
"The biggest challenge is planning for people you don't know."
I recently conducted a series of conversations with members of the Webmaker mentor community in order to learn a little more about what makes them tick, and how we can do a better job of supporting them in our shared quest to #TeachTheWeb.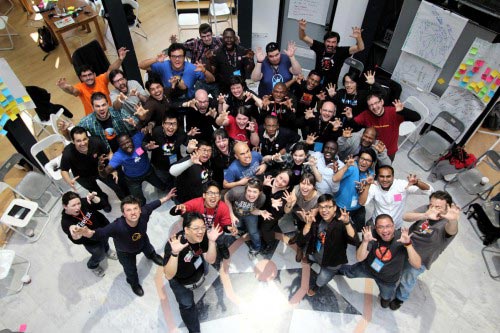 These people are the techies, makers, educators, who care about web literacy. They've run #MakerParty events, and shared their skills in a wide range of ways. Just take a look at all their teaching kits!
In this post I'm going to cover the process I followed to determine what to talk about with the community, as well as start to discuss some of the nuggets of insight I've gained from these conversations.
Identifying talking points (methodology)
Before I even started to consider who I wanted to involve, I knew we had to establish something to learn, some goals, and topics to cover.
I asked everyone on the mentor team for questions they had, a list of things that we thought we needed to know. Something I've learned over time is that you never know what you need until you actually find it.
Problem with this approach: I don't work well with lists.
Solution: Sticky notes. Lots and lots of sticky notes.
I'm declaring myself king of the stickies. The number of times I find myself staring at wall of then :-) #stickynote pic.twitter.com/sG80AiZn7Z

— William Duyck (@FuzzyFox0) July 23, 2013
So I have a mass of sticky notes covered in questions, taking up my desk. Now what? How do I make this meaningful? At this stage I decided a whiteboard and space to move, sort, group, and link the sticky notes together would be a good idea. This took a while, but I ended up with a map of questions, and topics to guide the conversations.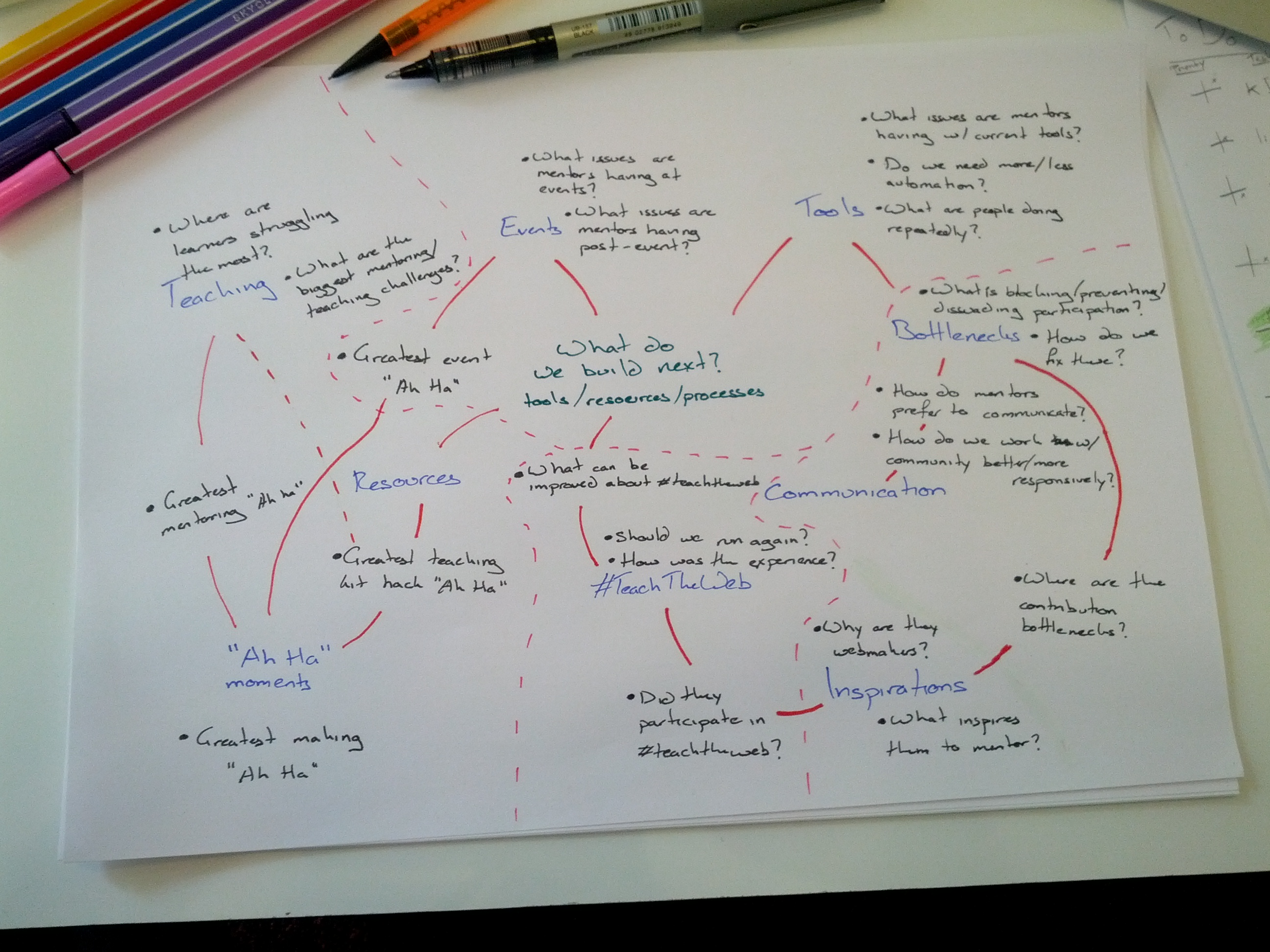 One central theme came out of this: What do we build next?
This question doesn't have to relate to tools like X-ray Goggles, Thimble, or Popcorn Maker, and in this context it doesn't so much. Here we think about things to build as processes, resources, support articles, etc…
My next step: Talk to the Webmaker mentor community?
Well… this skips a step, if I'm completely honest. I distilled this down a little more, into some themes for the conversations to touch on. This was so that the conversations could be just that: conversations rather than interviews.
The resulting topics:
Reasons for being a Webmaker.
Reasons for being a mentor.
Event hiccups.
Thoughts on Webmaker tools.
Thoughts on current resources (inc. teaching kits + event guides)
Now we talk to people 😃
Some findings
Events
Jeannie Crowley's quote does a good job of summarising a few key points in one.
"The biggest challenge is planning for people you don't know."
Our three formats of Webmaker events (and their accompanying guides) provide a solid start point and make the planning process relatively painless. However they don't tell you to find out what type of people will be attending your event before you run it so that you can tailor the teaching kits and activities to their interests.
This quote can also help illustrate another point: short events are great for introductions to skills/concepts, but aren't enough to build a solid understanding of webmaking. That comes from longer events, where learners can become familiar with the idea of webmaking and build with their mentors.
Possible solution: Build guides on recurring events and/or long form events.
Year Up makes an interesting case study for events of longer time frame.
Communication Channels
For #TeachTheWeb we needed a way to quickly, and efficiently communicate, and share information with each other. We decided to use Google+ for this, and for the most part it worked well. However it did fall down when we tried to resurface, and find past content.
That community decided it needed:
asynchronous communication
a way to highlight and resurface content
good search functionality across communications
Email or a newsgroup could be used for this (a system we use a lot in Mozilla), however some feel that email for our community would cause inbox overload, and that the sign-up process we have for our current newsgroup is too much of an entry barrier.
That being said, the communication channels used depend entirely on context. Twitter + Blog make a great solution for announcements, but cause problems for discussion on scale.
Final Remarks
Consider this the first post of a series. I've touched on some of the findings from the community, but there are many, many more.
Throughout this post I've talked about methodology. Its had the underlying theme of the Webmaker mentor community. The people who make these conversations so important, and are the reason for my conducting this research.
I started this post with a quote, and I'm going to end it with another. This time instead of trying to highlight methodology and findings, I'd like to reinforce the reason why the mentor community and its continued growth is so important.
During conversations I asked mentors why they themselves were Webmakers, and why they thought webmaking was so important.
"Making the web is easy, and more people should know how to make [it] their own."
To me that beautifully sums up both, and such, will be a key theme in the next post in this series.