This year there are going to be more ways to get involved with #MozFest than we've seen in previous years, and one of those ways is by joining the celebrations from wherever you may be.
"MozFest is about improving the open Web with new ideas and creations. It's also about sharing the open philosophy."
– Mark Surman
To me this means that MozFest is not so much about the goings on in Ravensbourne (though these are the physical embodiment of the idea), but rather that people are sharing that open philosophy together, and celebrating the web we want. We shouldn't be asking where people are, but where they are local, and hopefully this weekend that answer is "I'm MozFest local!"
There are a number of ways in which you can participate remotely in the Mozilla Festival this year, and I'd like to cover just a handful of them for you here. So gather up a few friends, and get ready to take on the MozFest Remote Challenge!
Test @ the Fest
One of the biggest opportunities for getting involved with the celebrations is to help develop, test, and remix new curriculum.
The ever awesome Mozilla Learning Network has put together a collection of six, kick-ass web literacy projects for people to play-test and give feedback on. These will be tested by people both in London, and around the world.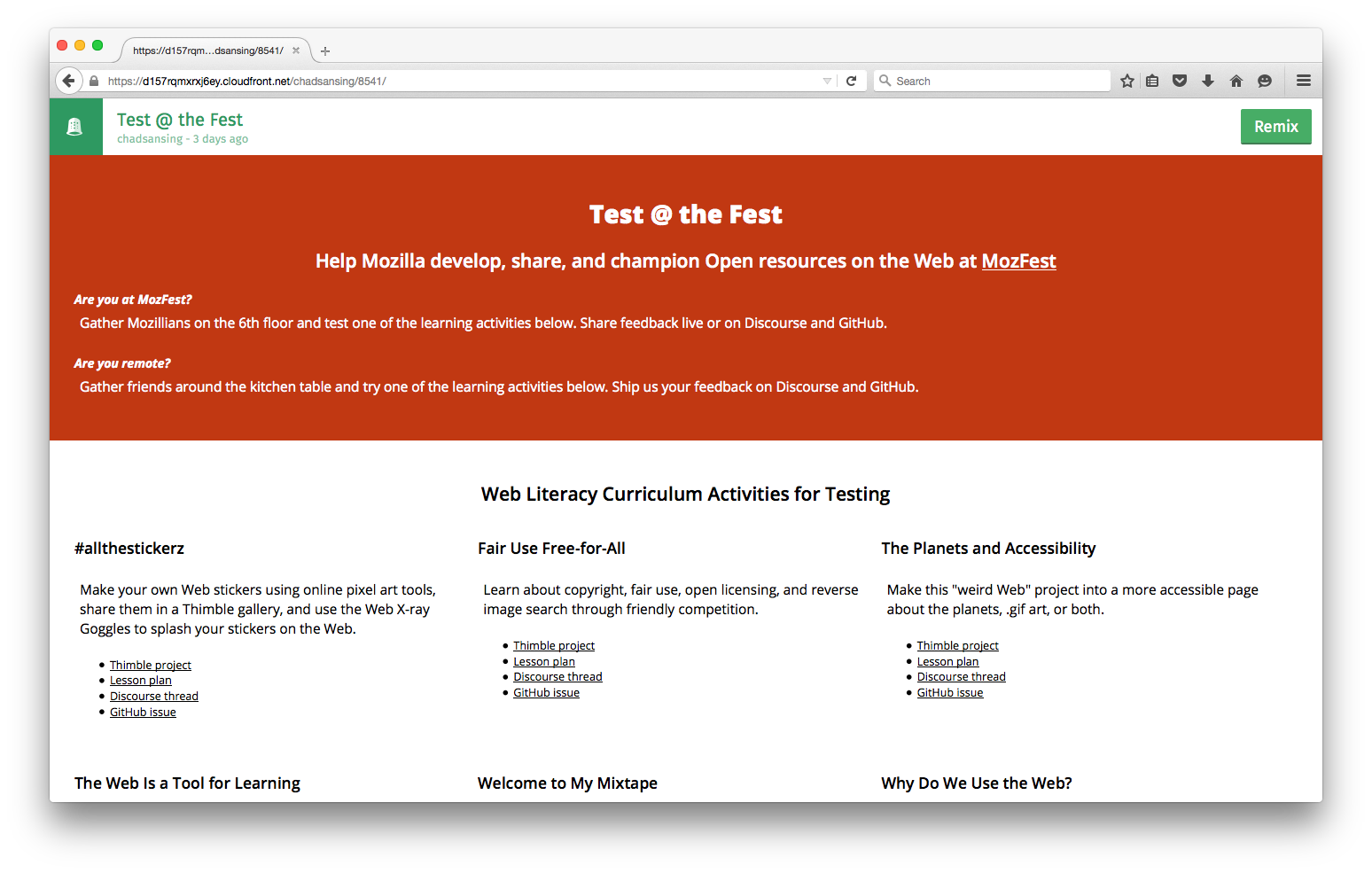 Test @ the Fest
Helping encourage a range of different web literacy competencies, these projects make the starting point for the Web Literacy Basics II module, and, after getting your feedback will be used by Mozilla Clubs both near and far.
Get Local with Web Literacy
There's an increasing interest in developing web literacy skills around the world, and Mozilla Clubs are popping up everywhere to help fulfil this desire. However right now the current curricular modules are only available in English. But they don't have to be!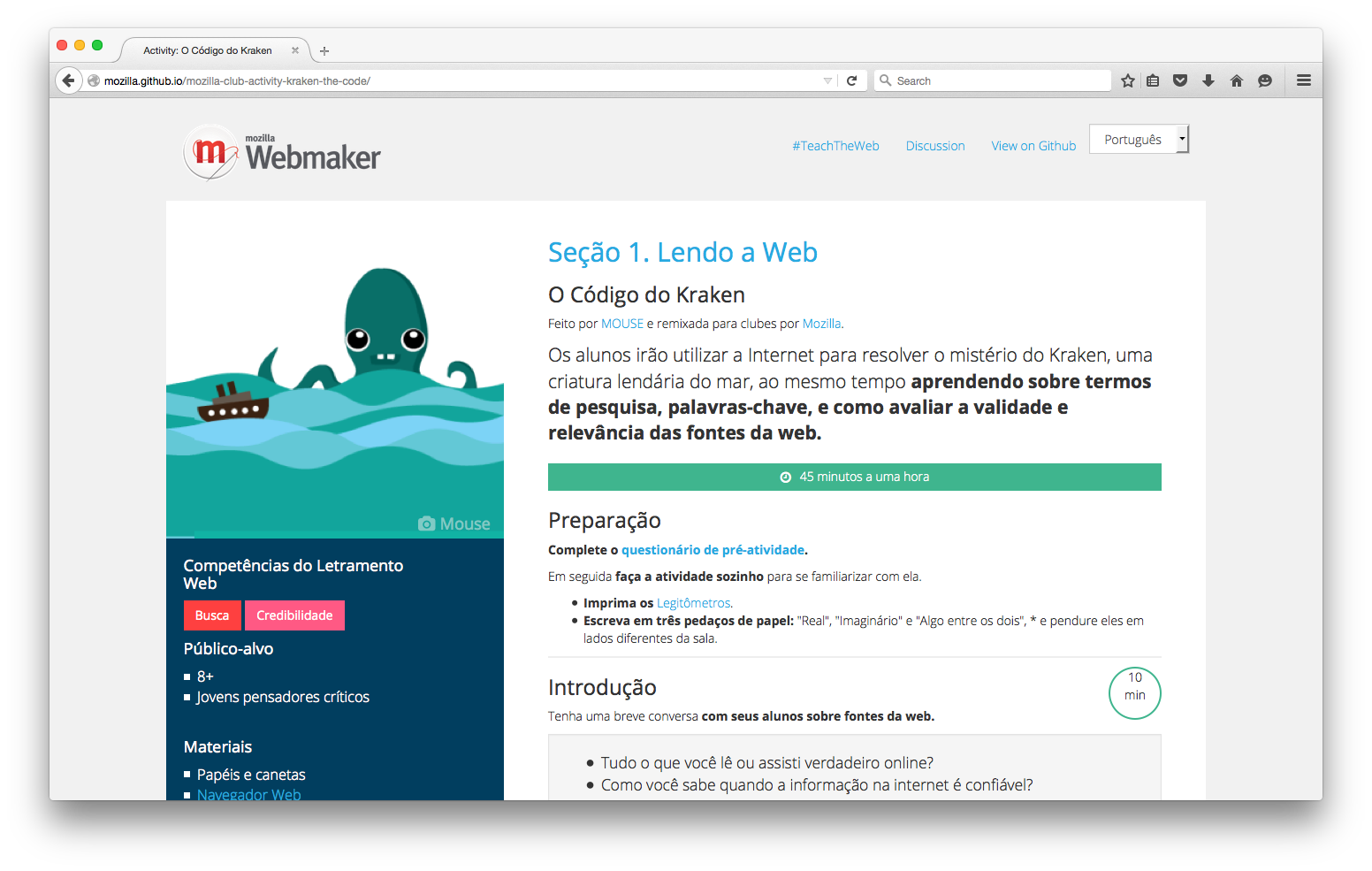 Kraken the Code
With your help we can localise these activities into more languages, and contexts than the singular locale we have right now, and the wondrous Andre Garzia has made this super easy. Why not work alongside him, and a team of others to make this possible this weekend, and soon we can all Kraken the Code (or rather O Código do Kraken).
Find out how to contribute on the Webmaker Blog.
#MozFestLive
Who doesn't love a hashtag?! This year we're planning a twitter chat, and even running an experiment using #MozFestLive to seeing if we can throw units of work, and calls to action, out from sessions at the festival, and get results back into the session from those unable to make it to London, in real time.
Myself, and a few others, will be attending a selection of sessions, in a range of spaces and pathways, with the intention of finding ways for people to participate digitally.
For example we might tweet out something like:
"Hey #MozFestLive, we need some images of kittens eating zombies! Tweet your images back."
Or possibly:
"Just been in a session talking about their #MozFest Stories, what's yours? http://mzl.la/1RK0Qd7 #MozFestLive"
If you respond to these calls to action, we'll make sure to report your feedback to those at the session in London!
But wait, there's more!
The Mozilla Festival is a huge event, with more than any one person can follow. There are more ways you can follow the action, and join in than I could possibly list in one blog post, which is why we're working on a page filled with more ways you can get involved, from joining the plenary sessions on AirMozilla to sharing digital memories with @MozFestTimeline.
Visit 2015.mozillafestival.org/remote to learn more ways you can get involved.
---
A parting question:
What are you planning on doing to celebrate the open web where you are this weekend?