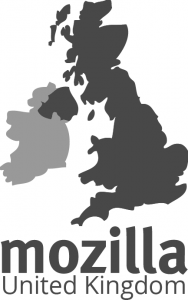 Proposed vertical version of Mozilla UK logo
Okay… so it appears that even though this revamp is still in the early stages there is a reasonable amount of interest in the project. So I thought I would make it easy for those of you who are interested to stay up to date. I will be periodically posting here about major updates, however for more minor things you should keep an eye on my tumblr where I will be posting about more mundane changes, as well as periodic photos of my paper based work. Until I get back to university and thus my scanner.
So for now here are the big changes since I last posted about the revamp. I have added the data flow and entity relationship diagrams to development the document, as well as added headings for future sections to be written, and the system requirements.
Biggest reason for not posting here every time a make a change, well… unlike with my A-Level I don't have to blog this in every tiny detail, and I also now have my tumblr which is a much better format for quick updates than my blog which I am trying to keep free for more detailed, and important updates from myself.
If you have any feedback on this revamp feel free to drop a line to me, or if you are part of the UK community mailing list then send it there. In fact… I should probably post my updates there as well as my tumblr… so I will 😜